Name: Reikou Alena
Age: 15
Gender: Male
Race: Human/Demon
Appearance: White hair; medium. Grey eyes, small nose, scar across face. About 5'6. Small wings on his back.
Clan: Demon
Personality: Reikou is a quiet guy. He usually avoids talking with people. He's the type of person who does
everything his way, and everything by his rules.Reikou trusts no one and prefers to travel alone.
History: Reikou comes from a small village, In the middle of nowhere. His mother died while giving birth, therefore
Reikou grew up with only his father.
Reikou practices dark magic, and has been ever since the age of four. He trains and grows more powerful in a tomb
near the village by harnessing the powers of the evil spirits lurking within, the spirits of the many kings buried
in this unknown tomb. He decided to learn the magic to protect his family if he needed to do so.
At 13, he witnessed the murder of his father. Ever since, he's been traveling the land in search of his father's killer,
thinking that it was his fault that his father died.
Powers: Black magic,death magic; needs to have his pendant to use it. (his pendant is always around his neck);(he found
the pendant the first time he found the unknown tomb and he figured out that the pendant would help him learn dark magic
by harnessing the powers of spirits. He discovered this when he was attacked by a spirit, and the pendand sucked it into
it's dark gem that glows at the end of the chain).
He can fly using his demon wings.
Parents: Amelia Alena(Mother), (died at the age of 25 during Reikou's birth) Reikou never got to meet her, and
he wished he did. Joukein Alena (father), (was Murdered at the age of 39), Reikou always looked up to him.Joukein
did everything with Reikou.
Crushes: None.
Alliance: Dark.
Classes:Mentailisum-Room 504
Illusion-Room 503
Dojo-Room 307 (Training in use of Gunblade)
Elemental magic-Room 401
Dark Magic-Room 600
Weaknesses: Memories of his parents, white magic (light magic), affection for another person.
Talents: Knowing when somthing bad will happen, skilled while using a dagger (he carries a 16 inch dagger with him) and can easily cheer someone up. (He dosn't usually do that, though).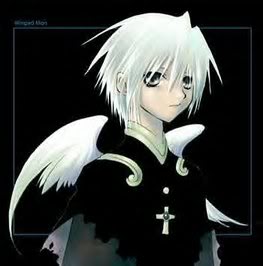 -Reikou